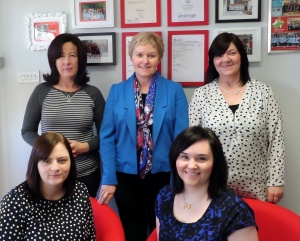 Care Plus Homecare Services Ltd aims to foster an atmosphere of care and support which both enables and encourages our clients to live as full, interesting and independent a lifestyle as possible.
It is the aim of Care Plus Homecare Services Ltd to deliver the highest levels of care at all times. To ensure everyone is safe and happy, to encourage independence and to motivate where possible, recognising individual abilities, preferences and needs.  The Care Team will always respect privacy and will ensure that our client's dignity, individual needs and personal choices are respected.  Care Plus offer support and compassion, bringing peace of mind to clients and their families.
We understand the importance of every aspect of care and the importance of an individual's needs and abilities.
A Little Bit About Us..
Care Plus Homecare Services Ltd started out as Nightingale Care in 2008. Working as a Carer in the local area in 2007, Kay began to feel that the big business goals of care companies had started to overshadow the focus on individual care needs. Kay decided it was time to get back to basics.
Kay started the company with one specific aim – to put the heart back into home care. Nightingale Care started in Handforth with just a handful of clients. Kay soon realised she needed an extra pair of hands and taught her daughter, Jessica, everything she knew about care and together they carried out the majority of the care. Their reputation grew within the local community and they quickly moved into Wilmslow and Alderley Edge picking up clients and care staff along the way.
Nightingale Care later merged with Care Plus Homecare Services Ltd in 2010, covering a larger area, helping more and more individuals live their lives independently in their own homes. As Care Plus, they expanded into Congleton in 2010, picking up a whole new network of clients and colleagues.
Needing extra help, Pascale Becherraz joined Care Plus in March 2012 as the Finance Manager. In October 2012 Care Plus moved into a new office and took on a new Care Manager, Marie Cooper. Marie has developed Care Plus into a fully functional, compliant organization and has helped Care Plus to reach its full potential. Marie's daughter, Michelle, joined Care Plus in 2013. Jessica and Michelle are now Care Coordinators, fully trained to skilfully match each client with a suitably trained Carer.
In February 2014, Care Plus was inspected by CQC and the report identified that Care Plus was compliant with all the standards required for a domiciliary care agency. Read the full CQC report. In 2014, Care Plus moved into an office in The Paddock in Handforth to become more in touch with their local community.
Our Team